Blogger Template: Montaigne
A light, pastel coloured Blogger/Blogspot template with a girly, fresh feel. More features and what's included in this pack can be found further down this page…
Not sure how it all works? Click here to read about our process.
This template is designed to be used on www.blogger.com.
Save
Note: This is a template created for Blogger/Blogspot and is NOT a
WordPress theme
.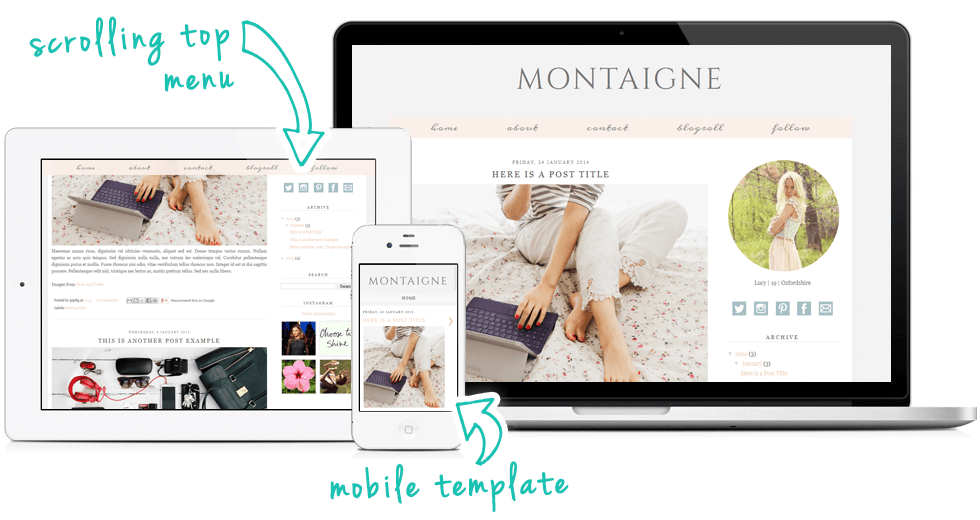 Blogger Template Features
Free installation service! More info
Mobile template – Looks great on any device!
Header automatically changes to your name (or upload any image instead).
Pictures in posts automatically scale to full width (if large enough).
Related posts displayed in post footer.
Dropdown menus.
Top nav menu floats with page as you scroll down.
Custom 'Popular Posts' widget.
Custom YouTube widget.
Custom Instagram widget.
Custom Pinterest widget.
Upload your own profile photo.
Easily customise the width of the blog and sidebar.
Add any links/pages to the top menu.
Left or right sidebar.
Add any Blogger gadgets you like to the sidebar/footer.
Social Media icons.
Facebook 'Open Graph' tags for optimal sharing.
Pinterest 'Rich Pins' enabled.
Twitter 'share cards' enabled.
Search Engine friendly code.
Instant Download Pack Includes:
If you would prefer to install yourself, the attached pack includes the following:
Template installation File.
Easy to follow step-by-step instructions.
Fuss free installation, no need to copy/paste any code like other providers!